One of the more exciting things that I have going on this year is the production of one of my plays at a university in Texas.
Here are the details: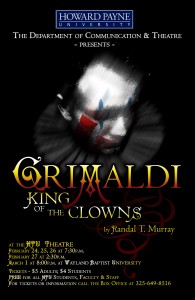 Place: Howard Payne University, Brownwood Texas
When, February 24-26 at 7:30 P.M. And February 27 at 2:30 P.M.
Followed by a theater festival performance March 1 at Wayland Baptist University at 8 P.M.
I've been invited by the university to attend and I'll be there for opening night (Thursday) and stay through for the Friday performance as well.  I'll also be speaking to writing students at the university about making a living as a writer and my book, Writing Assignments.
This is a play that I wrote as a playwrighting student and was performed as both a student workshop performance (a very important part of the play development process) and as part of Southern Illinois University at Carbondale's main stage season in 1986 (after I'd graduated). It was also performed as part of the American College Theater contest in that year.
Life is strange at times. I've spent the years since graduate school writing for business and working as a manager. When I finally got back to writing I found not only success as a business writer, but a strange synchronicity has also brought my creative work back into play. In the next few weeks I'll write about how the skills I developed as a playwright and a creative writer make me more effective as a business writer (hint: I help businesses tell stories that convince and sell).
If you can make it to see the play, I'd love to meet you. Be sure to introduce yourself. I'll write about the production after I return.
I'll be publishing the play, soon, through First Today Press.  If you have a theater group and are interested in producing this play, please contact me!
Grimaldi, King Of The Clowns by Randy Murray, unless otherwise expressly stated, is licensed under a Creative Commons Attribution-NonCommercial-ShareAlike 3.0 Unported License.