I love hot sauces. I'm not a total nut about finding the most mouth-burning sensation, but I do love those peppery concoctions that help food's flavors explode.
I keep both Tabasco and Frank's in the fridge – and I use them frequently. But I have a new favorite. Sriracha.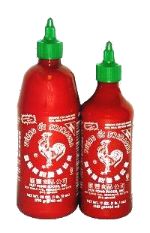 You can find the distinctive 17 ounce bottle in most supermarkets and many Asian restaurants. Many people just call it "Rooster" sauce because of the image on the bottle. But whatever you call it, it is wonderful stuff.
Sriracha is thicker, sweeter and more complex in taste that a simple Tabasco-like hot sauce. And that complexity, along with the heat, makes it close to the perfect addition to almost anything. Most soups can benefit from it, keeping it at the level where it adds flavor and additional "notes", but doesn't increase the burn. I often put it on my morning omelet. And just a bit mixed into marinara is heavenly.
This is a "Made In America" product, a version of a common Thai condiment, and it has the added benefit of being downright cheap. I paid under $4 for a big 17 ounce bottle at my local Kroger and you can buy it online here for $2.99!.
If you love food, if you love to cook, grab yourself a bottle of this heavenly stuff!
See also : Sriracha: 4 Recipes for a $5 Ingredient
The Off-Topic Friday: Sriracha Hot Sauce by Randy Murray, unless otherwise expressly stated, is licensed under a Creative Commons Attribution-NonCommercial-ShareAlike 3.0 Unported License.