On of my goals for my recent office technology refresh was to improve not just the ergonomics of my work environment, but to also create more space for my work. I've found that many people think that writers just need a blank page to do their work, but as a business writer I need room. I'm not just "making stuff up". I do research, refer to materials of all types, and need to see more than a full screen text editor.
For years I've been a fan of large physical desk surfaces. In grad school I built myself a desk out of a door and a set of metal legs. My current desk is an Amish-built "paymaster" desk without the riser and drawers at its back. It's almost as big as my door-desk. I like being able to spread out the books, papers, and materials and really see everything.
And I need the same thing from my computing environment.
Since 2008 I've been using an iMac with a reasonably large screen, but I wanted more. But when it became clear that from an ergonomic perspective that I'd need a laptop it felt as if I'd be getting a smaller screen, not a bigger one. I've frequently used external monitors with laptops, so I went in search of the ideal one for my needs.
I looked at a lot of inexpensive flat-panel monitors, but I selected the not so inexpensive Apple Thunderbolt Display. It's 27 inches across diagonally and gives me a beautifully big desktop environment. It doesn't have such high definition as the Retina display on my new MacBook Pro, but it's very good. I find that I often close the MacBook Pro and use in it "clamshell" mode with a wireless Apple keyboard and Trackpad, just viewing the Thunderbolt Display.
Why pay more for this display? First, it integrates beautifully with the MacBook Pro. The Thunderbolt display is equipped with a two-headded connector that provides power to the laptop AND a Thunderbolt connection that drives the display and provides additional networking. The very name "Thunderbolt" comes from the new high-speed network protocol that replaces Firewire. The Thunderbolt connection provides high-speed networking that drives the monitor's speakers, built-in FaceTime camera, and the built in networking ports, including 3 USB ports, an Ethernet port, an additional Thunderbolt port, and a legacy Firewire port. This is a considerable array of networking that lets me need less out of the laptop.
To improve the ergonomics, I've purchased a Griffin Laptop Stand

 to raise the height of the laptop display as it sits next to its monster brother. It makes using both displays together much more comfortable.
For working writers and others who need a lot of computing desk real estate, this is a great combination and the best of both the desktop and portability solutions. I highly recommend it.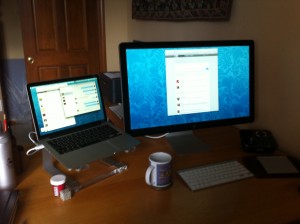 My new system on my desk.
The Thunderbolt Display—Boy Is It BIG! by Randy Murray, unless otherwise expressly stated, is licensed under a Creative Commons Attribution-NonCommercial-ShareAlike 3.0 Unported License.