There's a little coffee shop in St. Paul called Kopplin's.  On Wednesday morning it was snowing, heavily, but we had plenty of time before I had to be at the airport. So Patrick took me there and bought me a cup of coffee.
At the counter in this tiny shop he asked the owner to pick out a variety for us and we took the lemon poppy seed scones we had also purchased to the table at the very back of the shop. And there, over cups of most excellent coffee, we talked and told family stories to each other.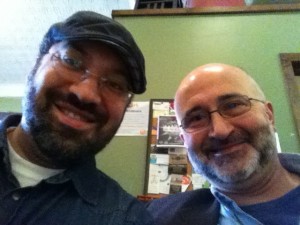 Now Patrick is a fine writer. He can, and probably will, share some of these stories in the near future. I'm no slouch of a writer myself. But in that brief hour we not only shared these stories, but we also learned more about each other in ways that are both deep and significant. And I think we both learned things about ourselves that we didn't know before we sat down in that shop and started talking.
When I say that Patrick is an old friend, I mean it. We've known each other for many years. And we keep in touch through email and Twitter. We videoconference when we can and follow each other all over the net.  And yet, that hour together was more productive and satisfying than all those other things put together. I'll remember that coffee discussion long after I've forgotten what we said during a video chat.
Here's why I think this way: it's about presence. I can open up a video window and see and hear someone, but if I'm with them in person we share more than that moving image. We share the environment, everything happening around us. And our focus, our attention, doesn't include things that the other person doesn't share. For example, when I'm at home, videoconferencing, the other person doesn't notice the cat stroll in, but I do. I have no idea what's going on in their frame of reference. Truly undivided attention can make for a very real connection.
Humans are very good at picking up all of the nonverbal signals that others give off. As good as videoconferencing is, you simply don't get those with video or audio. All of these things, in person, add up into significant and lasting connections and impressions. I don't think we'll have a true long-distance in-person experience until we have fully immersive Star Trek-like holodecks.
In person, one-on-one, it's also personal. With social media I'm talking with everyone and no one. Even when something is directed at me, it often includes everyone else who cares to follow. Email and letters are wonderful, but they cannot replace being together.
It may have been the coffee, but I felt smarter and more perceptive while Patrick and I talked. I've recognized this before, as during my lunches with my friend and editor, Penny. I only get a bit of this when I'm with a group, but when it's truly one-on-one, I see and experience things more sharply. It's a bit like cleaning the film off your glasses.
I quote Shakespeare more than I quote from the bible, but I think Corinthians 13 says it best. "For now we see through a glass, darkly, but then face to face: now I know in part; but then shall I know even as also I am known."*
One-to-one, face to face. I am known.
What could be better?
If you're anywhere within a day's drive and love coffee you should stop in at Kopplin's. Bring a friend and talk for a while. http://www.kopplinscoffee.com/
*Part of why the language from the King James bible is so beautiful and quotable is that it comes from the same era as Shakespeare. I've even heard a rumor or two that the Bard himself had a hand in it. I wouldn't at all be surprised.
Update: Part of the series: Some Things I learned By Showing Up.